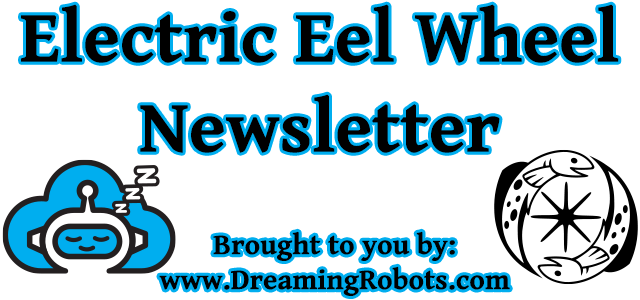 July 05, 2020
---
Welcome to the July 2020 edition of the Electric Eel Wheel Newsletter. Last month some people had issues reading the newsletter and others got two copies. I'm really sorry about those issues. I've tried to fix them with this month's letter, but if you are having issues let me know.
It's been a very busy month for me. Here is what I've been up to…
EEW 6.0
The EEW 6.0 Kickstarter campaign ended on June 20th. I've had a lot of people asking me after it closed how they join the Kickstarter, and unfortunately that isn't possible. I do the Kickstarter to figure out how many EEW 6.0 e-spinners I should order in the first batch from my manufacturing partners and to get the funds early so I can afford to order a big batch. A big batch really helps keep the price lower. If you missed out on the Kickstarter you can sign up for an in stock email notification for the EEW 6.0 by clicking the "Join Waitlist" button on my website. They will be in stock after I ship the EEW 6.0 to all the Kickstarter backers, which I'm estimating will be around February. I should have enough to meet demand since I am making a lot more than I needed for the Kickstarter backers.
I am working on some mold updates and then getting second set of samples of the EEW 6.0 plastic parts. Most of the molds were updated to fix things ranging from cosmetic issues to improving fit. I even had a new mold made to try out an improved hook design which I love. I made an update on my Kickstarter page with more details about the current manufacturing status of the EEW 6.0.
I have not yet gotten the funds from Kickstarter, but I should be getting them in the next week. When I get these funds I will start finalizing my orders for some of the parts.
EEW Nano Quill
I designed a free 3D printable quill for the EEW Nano. For those not familiar with a quill it basically allows you to spin in a new way on your EEW Nano. Instead of the yarn going on the bobbin it works more like a drop spindle and puts the yarn on a stick. Hopefully some of you with EEW Nanos will try out this new method of spinning yarn and let me know what you think. You can check out a video for more information about this video.
Future Projects
I know there is a lot of interest from people about the EEW Yarn Counter. I have finished all the design updates for the plastic case, circuit board, and custom keypad. I'm working on making a new prototype based on all these updates, but it takes awhile to get these custom parts made. While this is happening I'm working on several software updates to make it more usable. Hopefully in 1-2 months I'll have a some prototypes that are much closer to final and will start doing more real world testing with different types of yarn. I will keep people updated on this project.
The level winding cone winder is something I have also spent a little time working on. I think I've come up with a much more manufacturable level winding drum design. It is actually requiring me to do a lot of new techniques in CAD to design the part so it's been a fun learning experience for me. If I get something working here I will be sure to share it with you, but currently this is still in the proof of concept stage.
---
– Maurice Ribble
(Inventor of the Electric Eel Wheel)
www.dreamingrobots.com
EEW Facebook Group
EEW Ravelry Group
EEW Youtube Channel