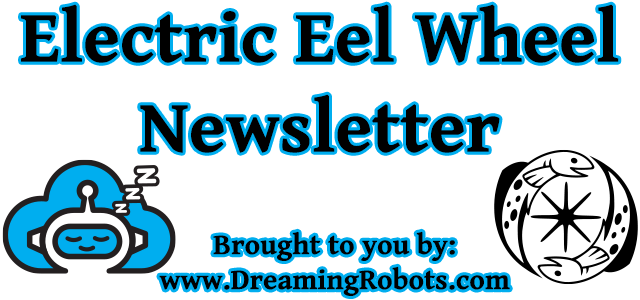 ---
EEW Photo Contest
I'm starting an EEW photo contest today and it ends May 15th. You can participate by emailing your photos to support@dreamingrobots with the subject "EEW Photo Contest 2021 ". After submissions end the community in the Facebook and Ravelry groups will vote for three days picking one winner per day from a list of photos I select from the entrees. Then there will also be 2 randomly selected winners. Every person who emails me will get one entry into the random selection for submitting photos, and if you also include a link to any place online that you shared your photos you'll also get a second entry into the random drawing. You can submit multiple photos, but you don't get extra entries into the random drawing for this. Each of these 5 winners will get a $100 credit to my store for future purchases. All the photos submitted to this contest can be used by me for marketing purposes. One way I plan to use them is to post them to my Instagram page since people love seeing a new EEW related photo there every day. If you want me to include any info in my Instragram post of your photos include it in the email and I will do my best to include it.
What kind of photos should you submit? It can be photos of your EEW eSpinner, yarn you spun with it, the garments you made with that yarn, or anything you think is related to your EEW. Have fun with these photos and I hope to see a lot photos!
EEW Yarn Counter Kickstarter Coming Soon
I have a the molds made for the EEW Yarn Counter. The current prototype I'm using is very near final and I'm starting to work on making the Kickstarter campaign for it. I'm hoping to launch it on Kickstarter for it within the next month or two. When it does launch I will announce it online and to this email list. I'll have all the details about what makes this Yarn Counter so special when I launch the Kickstarter.
EEW 6.0 Shipping and Support
The EEW 6.0 has been shipping out for all the Kickstarter backers and all my online store orders. When shipping out well over 2000 eSpinners there is going to be a lot of support required. Most of the support revolves around people who have never spun before asking about issues they are having with various parts of the spinning process. These questions were much easier to answer for the EEW 6.0 thanks to the awesome 6 part eSpinners for Beginners video series and the Fiber's and Spinning Techiques video series Vampy made before the EEW 6.0 launched. The next most common issues were handling parts that got damaged in shipping or were missing. I shipped out replacement parts for all these issues and while there is room for improvement in the future, the amount of mistakes I made was manageable. Lastly I had a few actual design issues that was causing the EEW 6.0 to stop for a small number of people using the EEW 6.0. It took me about a week to figure out the root cause and propose two fix options. This page explains this stopping issue in detail and gives the fixes.
If you're looking for tips and tricks for your EEW 6.0 check out the video below.
Happy spinning!
---
– Maurice Ribble
(Inventor of the Electric Eel Wheel)
www.dreamingrobots.com
EEW Facebook Group
EEW Ravelry Group
EEW Youtube Channel
EEW Instagram Account
EEW Discord Server