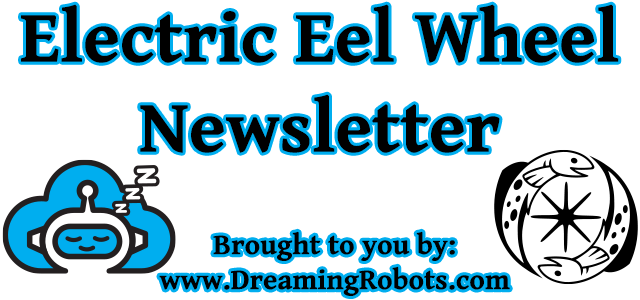 September 1, 2020
---
I hope you all have been enjoying your summer. The pandemic has caused us to cancel some of our travel plans; however, we have adapted and it's been a fun summer for our family. We've done some socially distanced camping and hiking. My daughter has been learning to swim, and we practice nearly every hot day at our neighbor who has a small beach on a nice swimming lake.
Spin Anywhere Contest
I'm running a contest where you can win gift certificates to my store. You can submit photos either as explained in the full rules here, or another option is to just reply to this email with your photos, name, and email. The contest starts September 20th and runs for 8 days. You will be able to vote for your favorites each day on our Ravelry or Facebook group. #spinanywhere
EEW 6.0
During this past month I finished what should be the final prototype of the EEW 6.0. Now I'm focused very much on manufacturing and improving the documentation. This Kickstarter update has a lot more information.
Cone Winder
First off I want to thank you all for the suggestions and support you gave me on the last cone winder update. I took all that feedback and made a new functioning prototype and that is what I show off in this video. This is still in an early prototype stage and it needs a lot of refinement, but I'm happy with how things are going. If you have any suggestions or feedback let me know.
Circular Knitting Machine Restoration
I posted a third update to my project to restore a circular knitting machine. In this update I get some needles for it and then run into a new issue with the cylinder. Overall I'm happy with this project. I still haven't decided if I'll try to make one for my store, but I'm learning a lot and have been sharing that knowledge so the project is already a success. Here is a link to this video.
Spin Off Magazine Advertisement
Here is a photo of an ad I put in Spin Off Magazine. I have done a little digital advertiseing in the past, but this is the first time I've ever done a print advertisement for the EEW. Advertising in general is an area I don't have much experience and is a skill I want to to grow. As an engineer I used to think that a good product will sell itself. While there is truth to that, advertising is important way to reach people who would want a product, but haven't heard about it. Of course the best advertisement and the most important one for the EEW is word of month. So if you ever think you know someone who might be looking for a spinning wheel please tell them about your experiences with the EEW.
---
– Maurice Ribble
(Inventor of the Electric Eel Wheel)
www.dreamingrobots.com
EEW Facebook Group
EEW Ravelry Group
EEW Youtube Channel
You are receiving to this email because you subscribed to our newsletter for the Electric Eel Wheel.
Unsubscribe here if you aren't interested in getting this newsletter.