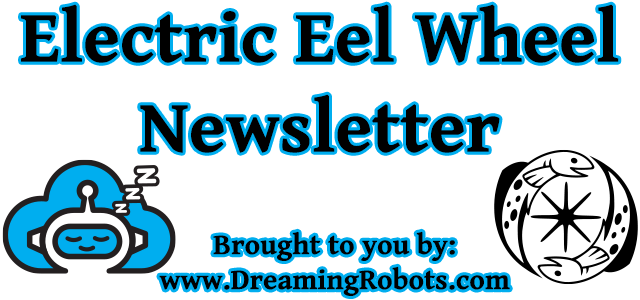 ---
I should have mentioned this last month so more people could participate, but the turn out for the Tour de Fleece this July was still awesome! For those not familiar, during the Tour de France bike race each year there is also a Tour de Fleece where spinners (the fiber type) set personal goals and usually try to do some spinning each day. Turnout on the EEW Ravelry group and EEW Facebook group was amazing. I'll try to remind people here to participate next year, but you can also remember when the Tour de France happens it's time to do some extra spinning.
Poll about EEW Naming
I've been thinking about the "Electric Eel Wheel" (EEW) name I use with my fiber tools. I explain my thoughts and am asking for you to vote in this poll. I will let you know the results next month.
Photos Wanted
I'm looking for your photos of any EEW products. Please reply here with photos that I can use. One of the things I like to do with them is posting them to my Instagram account. If you have any photos you can share with me or want to go take some now (the newsletter will wait for you) then send them over. A massive thanks to all of you who are willing to share your photos with me so I can share them with others to grow the EEW community.
EEW Cone Winder Update
Here is a new video showing off the first molded parts for the Cone Winder. I'm super happy with all the improvements.
EEW 6.0 Out of Stock
Orders for the EEW 6.0 have exceeded my expectations. I put an order in for more EEW 6.0s just after receiving my last batch early this year, but there are still a lot of delays in manufacturing so instead of my normal 6 month lead time it is looking more like 9 months. I'm ordering twice as many EEW 6.0s this time, and they should be arriving around November. I'm very hopeful I'll have them ready for the prime festival season and the holiday season this year. The EEW Nano 2s will be in stock about a month or so before these. I've updated the product page saying I expect them to be in stock in November and will update that page if this changes.
Product Updates
Below are just estimates and the dates may change.
EEW Nano 2 – Shipping in October
EEW 6.0 – Shipping in November
EEW Cone Winder – Kickstarter in September or October
Keep on spinning!
---
– Maurice Ribble
(Inventor of the Electric Eel Wheel)
View web version of this email
www.dreamingrobots.com
EEW Facebook Group
EEW Ravelry Group
EEW Youtube Channel
EEW Instagram Account
EEW Discord Server