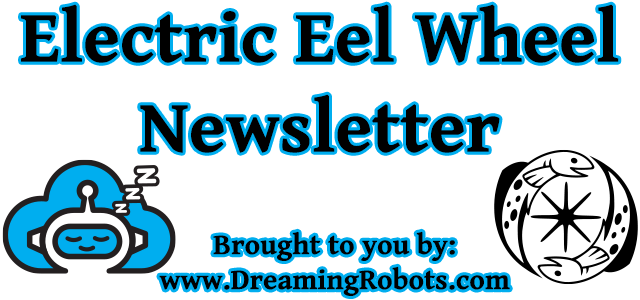 ---
Shipping Products
I've been very busy shipping products during the past month. I shipped 2,600 packages for the EEW Yarn Counter Kickstarter. I also put the EEW Yarn Counter and EEW 6.0 on my online store and I shipping many hundreds of orders of each of those. For the Kickstarter shipping I worked with local foundation for individuals with developmental differences called Seven Hills ASPiRE. They sent over a van with six workers and a manager. They packaged the EEW Yarn Counters and put shipping labels on them. I worked right along with them on that shipping project and we both learned from each other. I was extremely happy with the results and they all were happy to have some work. The cost was probably around what hiring my past contractors would have cost, but honestly I feel it was easier for me and the results were great.
For my store orders I did most of the shipping myself, but I am transitioning over to having a local business help with fulfillment. I'm hoping this coming month they will handle most of my shipping so I have more time to focus on my future projects. I have fallen behind where I wanted to be on my future projects like the EEW Nano 2 and EEW Cone Winder. I do plan to work hard going forward to get both of those projects back on track. Both are at stages where I'm happy with the prototypes, but I need to get both ready for manufacturing. The EEW Nano 2 is really close to getting manufactured. I just need to approve one final custom plastic part. The EEW Cone Winder is just starting the process of getting ready for manufacturing.
Testimonials
I'm collecting testimonials from the community to share what you think about my products. Would you like to participate? These reviews will help grow the community and give new customerse the confidence to try Electric Eel Wheel products.
If you're willing to share your experience please feel free to share a short statement (1-3 sentences), and your name by replying to this email. You can also attach a photo of yourself if you want. If you would like to upload a video testimonial, you can do that here.
Your feedback is really important to me and I'd love to hear from you! I'm especially interested in EEW Nano testimonials since I'd like to share some of those in the upcoming EEW Nano 2 Kickstarter, but any product you are willing to give a testimonial for is greatly appreciated.
Product Updates
Below are just estimates and the dates may change.
EEW Nano 2 – Kickstarter in May
EEW Yarn Counter – Fourth Quarter 2022 Kickstarter
Happy spinning!
---
– Maurice Ribble
(Inventor of the Electric Eel Wheel)
www.dreamingrobots.com
EEW Facebook Group
EEW Ravelry Group
EEW Youtube Channel
EEW Instagram Account
EEW Discord Server