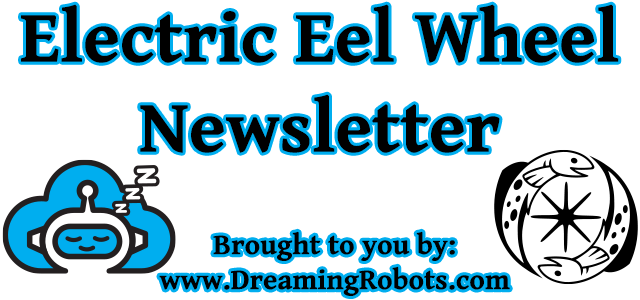 ---
I'm considering setting up an affiliate program where I pay people a percentage of each sale on my store for those who drive traffic to my store. If this sounds interesting to you please fill out this poll.
Bags
These pretty bags are a woven plastic like you typically find in reusable grocery bags, only these are bigger than the typical reusable bags so they can easily fit an EEW 6.0 box plus other accessories in them. I initially planned on getting these bags as something I'd give with every order when I'm at festivals. I figured it was better for the environment than one use bags and it would be good advertising to see a bunch of people walking around a festival with these bright bags. Then my agent in China found a really good source with a highly automated factory for making these bags at a price lower than I thought I could get in my relatively low quantities. With that lower price, I decided to get a bunch of extra bags and will figure out a way to sell them to people interested and look into ways to keep shipping affordable.
These are just samples, but I'm told the final ones will look the same. It will be awhile before I have the bags.
EEW Nano 2
I was hoping to launch a Kickstarter for the EEW Nano 2 in May, but that probably isn't going to happen. I have all parts to make the EEW Nano 2 except the custom molded plastic parts. I'm happy with all the different plastic parts samples I've gotten except the flyer. I am working to make it as quite as possible at a price that works for the EEW Nano. I've tried four different modification to the flyer so far and plan to try at least one more. While I do love prototyping with 3D printers, this is part of the process that can't be done with a 3D printer. This makes each one of the experiments take a lot of time and cost me a lot of money. But it's worth it because to really make this a big step forward from the EEW Nano 1.x, I need the flyer to be great.
The good news is when I finally run the Kickstarter for the EEW Nano 2, it will ship a lot faster than my past Kickstarter projects since I'll have all the parts on hand. So I'll just need to do assembly and then shipping.
I'm going to spend a lot of May working on the EEW Nano 2 story, videos, photos, and overall just getting the Kickstarter page looking good. I could spend forever making a super polished video and page, but I generally setup a timeline of a few weeks and just see how good I can get the Kickstarter page and video looking in that time frame. As in the past I'm going to try make it a good mix of presentation and information. That said, I'm well aware my presentation value is below average for Kickstarter videos, but I'm fine with that. I like my informative low budget style, and try to make up for presentation with good engineering, openness, and affordable prices.
Product Updates
Below are just estimates and the dates may change.
EEW Nano 2 – Kickstarter in June
EEW Cone Winder – Kickstarter in 4th Quarter
Happy spinning!
---
– Maurice Ribble
(Inventor of the Electric Eel Wheel)
View web version of this email
www.dreamingrobots.com
EEW Facebook Group
EEW Ravelry Group
EEW Youtube Channel
EEW Instagram Account
EEW Discord Server