---
It's a busy time for me. I've been a vendor at a few fiber festivals (more on this later). The EEW Nano 2s have just arrived and when a new product arrives I spend long days at my warehouse shipping orders. With over 3000 EEW Nano 2s to ship that is a lot of time spent on shipping. I've also been finalizing parts for the EEW Cone Winder so I can start the manufacturing process, and I've been working on some new products that I'll talk about in some future newsletters.
EEW Nano 2 is in Stock!
I am finishing shipping the EEW Nano 2 Kickstarter preorders so I've just opened up my store for new orders of the EEW Nano 2. If you've been waiting for the EEW Nano 2 then now is the time to place an order. I expect a lot of orders, but I should be able to ship any order within a few days of receiving it.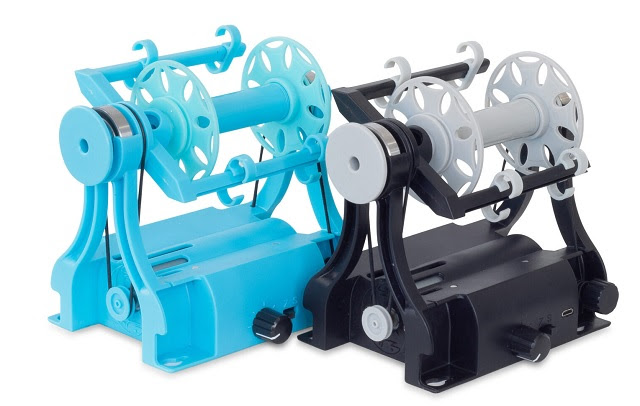 Storage Bobbins
I created some free 3D printable files for storage bobbins. I tried to make them better than any other storage bobbin out there. They are available in 2, 4, 8, and 16 oz sizes by default, but I also included the Fusion 360 files so people can make other sizes if none of those work for you. Check out this video for more details.
If you don't have a 3D printer, I don't sell these parts, but others do. I explain options for having others print these for you here. I like to give away parts like this from time to time just to help out the community so I hope some of you fine this useful.
Fiber Festival of New England
I was a vendor at the Fiber Festival of New England last month. It was a huge amount of fun. I get to talk with people from the EEW community, give demos of my products to all sorts of people, and talk with other vendors some of whom might want to sell EEW products.
One of the highlights for me is giving demos of my eSpinners. An especially memorable moment was an older grandma who was walking by my booth and I asked if she wanted to try an eSpinner. She said that she'd try it but wasn't really interested because she preferred her treadle wheels. About 20 seconds later she decided she loved it and wanted to buy one. I didn't have any stock, but she is now on this newsletter and is waiting for the EEW 6 to get in stock.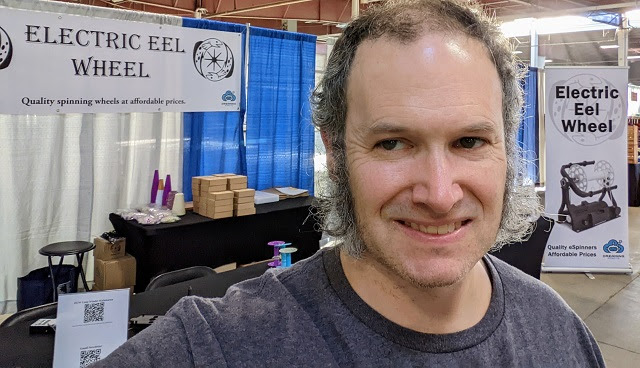 Product Updates
Below are estimates and the dates may change.
EEW Nano 2 – Now in stock!
EEW 6.0 – Shipping in late December 2022
EEW Cone Winder – December 2023
I don't accept pre-orders in my store, but when I get a batch of products there should be enough for everyone.
---
– Maurice Ribble
(Inventor of the Electric Eel Wheel)
www.dreamingrobots.com
EEW Facebook Group
EEW Ravelry Group
EEW Youtube Channel
EEW Instagram Account
EEW Discord Server